Opportunities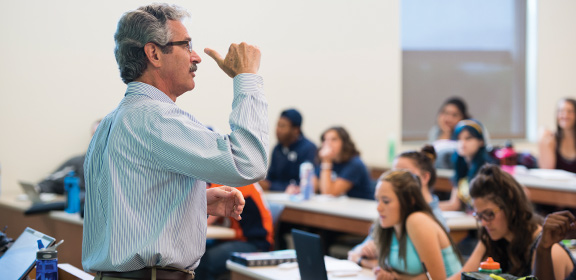 Professor Samuel Ebersole teaching media and society in the General Classroom Building
The Center for Teaching & Learning supports faculty and staff initiatives related to the Scholarship of Teaching and Learning (SoTL). We offer mini-grants to support new and revised curriculum, faculty and staff development, and other broadly defined work that improves teaching, enhances students' classroom experience, and creates an environment of quality academic rigor and long-term student success. Faculty may apply for Faculty Fellowships, request a Teaching Consultation, develop an interdisciplinary CTL short course, or utilize other available resources and support staff in the Center.
Fellowships provide on campus semester ½ to ¼ time teaching releases for faculty to work on research for publication, exhibition, composition and performance connected to and influencing the scholarship of teaching and learning (SoTL). In addition, Fellowships enable faculty to develop new courses, programs and initiatives. These fellowships allow the CSU-Pueblo community to build institutional capacity for professional development, for innovative teaching, and for engaging and discipline-neutral learning models for online, hybrid, and other course models – with an emphasis in General Education courses and programs.
The Fellowships require a semester/AY-long weekly seminar in which each class of 2 to 4 Fellows meets to discuss their research, teaching, and projects with an interdisciplinary group of colleagues. Each Fellow will propose an engaging way to share his/her research/project (etc.) with the CSU-Pueblo community, to collect and disseminate data, broaden the campus-wide reach of the proposal, and to align this project with ongoing (or "missing") elements in his or her home program, department, and/or college. All Fellows are expected to complete a "Fellows Expectations" agreement in which his or her work with the Center for Teaching and Learning and with his or her proposal is outlined and agreed upon.
Once appointed, Fellows join an expanding community of scholars, teachers, and artists who receive ongoing support from an enthusiastic network of colleagues. Our hope is that Fellows will continue to meet once their semester together ends, continuing the SoTL conversation across disciplines at CSU-Pueblo.
CTL Courses offer students and faculty the opportunity to engage in topics that are at the forefront of our diverse faculty's research interests. Conducted in a seminar-style setting, instructors will provide an overview of the subject and present their scholarly work and related research innovations. Seminarians will be able to not only learn about the topic, they will be encouraged to engage, with each other and with the instructor. CTL Courses encourage a multidisciplinary examination of issues and topics by community members, faculty, and students from across the university. The goals of CTL Courses are to focus the many intellectual perspectives and resources of CSU-Pueblo on the study of important topics and to enact a sense of common purpose across the diverse communities at CSU-Pueblo. These classes are offered to all students: undergraduate, graduate, and professional. Faculty and Community members may audit these courses for a certificate of completion.
CTL courses are 1-3 credits offered in fall and/or spring semesters. Conveners will receive a stipend or supplemental contract – at a rate per credit hour that is equal to the standard rate for adjunct pay based on highest earned degree and/or rank at CSU-Pueblo.
The CTL solicits applications from faculty from across the university who would like to teach an interdisciplinary collaborative course in the next academic year on a topic of their choosing, which will draw community members, faculty, and students from across the university.
Unless a specific topic is announced, any and all proposed topics will be considered, but they should be broad enough to generate interest from students across the university, and to be approached from a variety of disciplines. The CTL will assist with course development and registration and identify possible collaborators from other colleges. Many departments will allow for this course to count as part of a faculty member's normal teaching load since the course will be available to students in their home department. Please consult with your department chair to confirm how this course will count in your teaching load.
Course Structures
Any course structure appropriate to the topic will be considered. Ideally, the course will met as a seminar once a week for three hours. Other class formats are also possible. We encourage shortened, or compressed-length semester formats.
It is recommended that there will be multiple guest presenters in the class providing diverse disciplinary perspectives on the topic. Ideally, there might be 10-15 distinguished CSU-Pueblo faculty members presenting in at least one class during the semester. At least one, and preferably all, of the course conveners should attend each class session throughout the semester.
Conveners should include a community aspect to their course. Examples are: opening up one or two of your guest lectures to the larger Pueblo community, developing a concurrent film series that is open to the public, or videotaping several sessions of your course and using the material in a Extended Studies course or other online course.
Additionally, the CTL may offer a modest curriculum development stipend, once a course is approved.  
The CTL is able to provide a modest budget for books, speakers, and materials or supplies necessary for these courses. The funds are meant to cover stipends for conveners, guest lecturers, and any outside speakers you may invite to participate; other funds for supplies and/or equipment may be possible.
Submissions should include a 1 page summary that outlines the following
Your topic and justification for its relevance as a University Studies Course
A rough sketch of topics and perspectives you will cover during the class
Short summary of the community aspect of the course
Names and school/departmental affiliations of faculty you have identified that are interested in participating as guest lecturers
Please also include in your proposal your name, rank, department, and contact information.
Completed proposals and any questions you have about the process should be directed to donna.souder@csupueblo.edu