Events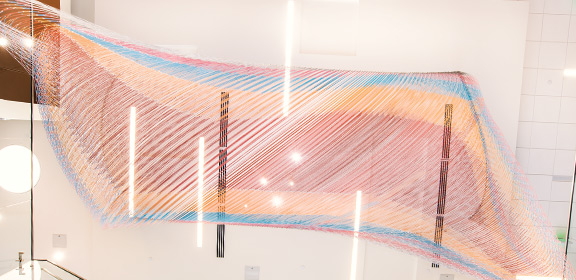 Ball Nogues art installation located in the General Classroom Building
The Center for Teaching & Learning supports campus-wide events, guest speakers, and pedagogical/training activities that offer unique opportunities to our faculty and staff for ongoing professional development. We believe that in order to serve our students well, we must first serve our faculty and staff and demand that they hold themselves and each other to a rigorous standard for teaching, scholarship, and university/community service.
Summer 2017
MAESTRO Summer Program
About the Program
This summer, students can experience an innovative model of instruction during a month-long residential program for which they can earn up to 15 credit hours from Colorado State University-Pueblo. CSU-Pueblo will offer the "MAESTRO" Summer Program from July 9 - August 10 for a maximum of 40 students interested in earning college credit while participating in a unique, hands-on curriculum and exploring the Southwest during day-long Saturday excursions.
---
Jason Saphara
Integrating Writing, Creating Success
Discussion
Thursday, August 17
10:00 am - 12:00 pm
General Classroom Building 312
About the Event
Integrating Writing, Creating Success! Join us in the Center for Teaching Learning for a discussion of easy and effective methods for using writing to increase student learning. Incorporate writing assignments that are not only easy to assess and suitable for your discipline, but also encourage critical thinking and teach course content. Learn how the CTL can help you design new writing exercises or revise existing ones. Free books for attendees! RSVP to the CTL at 719.549.2290 or ctl@csupueblo.edu.
---
Dr. Jonathan Rees
Domain of One's Own
Workshop
Thursday, August 17
1:00 pm - 4:00 pm
General Classroom Building 312
About the Event
Thursday, 1:00 pm - 4:00 pm The Center for Teaching and Learning invites you to a workshop about the "Domain of One's Own" project." The CTL is piloting a faculty learning community to explore web tools for college classes across disciplines. Learn to set up your own web site which you can control. Teach your students to do the same and use open source tools for online writing, publishing and media curation. Bring your own laptop. Stay as long as you can.
---
Check out our Archive to learn more about past CTL speakers and events!