Cannabis Studies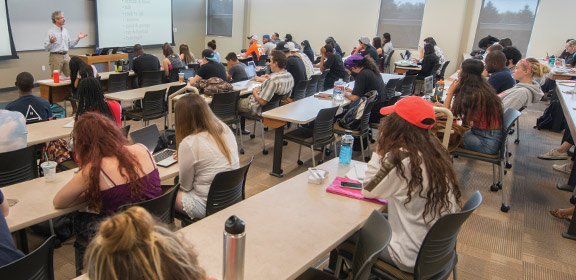 The Cannabis Studies Minor is a 22 credit program of study designed for students seeking to complement their major program of study in Social Work, Sociology, History, Political Science or other programs. This minor is open to all students. The Cannabis Studies Minor supports the mission of the university by providing courses focused on cannabis and its social, legal, historical, political, and health-related impact on society. More specifically, this minor endorses our commitment to our role as a regional comprehensive university dedicated to providing leadership in civic responsibility through excellence in teaching and research.
Student Learning Outcomes
Students will be able to:
Identify the legal and social ramifications/impacts of cannabis on society.
Explain local, state, and federal policies regarding cannabis.
Apply knowledge gained from cannabis studies to internships in health, social, legal, or nonprofit settings, as appropriate.
Outcome Assessment Activities
The curriculum of the Cannabis Studies Minor delivers a strong base of knowledge relating to cannabis. As part of a Hispanic Serving Institution, there is an emphasis on understanding and appreciating the impact cannabis has had on the Chicano/Chicana community and other regional populations of the Southwestern United States.
Student learning is measured through the completion of required course components. Faculty teaching the minor area courses will evaluate each project, paper, or exam submitted by students, paying close attention to the students' ability. The results of these assessment activities are used to improve program offerings and enhance student learning.