Degree Requirements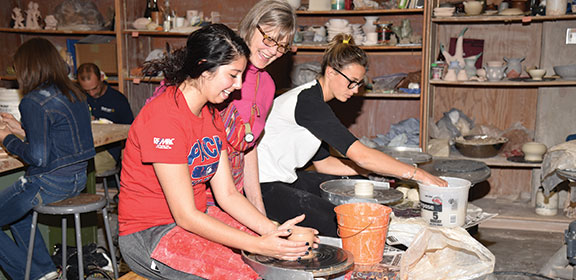 General Requirements
The art faculty firmly believes that a quality undergraduate art program must be built from the strong foundation of basic concepts and techniques provided by the required ART CORE courses. Art history, drawing and design combined with an introduction to the basic art processes, provide the necessary background of information and skills for individual artistic growth and maturity. A strong grounding in the fundamentals of art, as provided in the ART CORE, indicates the department's insistence upon respect for and commitment to the academic discipline of art as a professional career.
Art majors must complete the required courses known as the ART CORE, before proceeding into the beginning courses.
No grade lower than a C will count toward either an art major or minor.
BFA candidates must maintain a 3.0 in the art major.
Students are required to take 30 hours of major courses in residency.
Outcomes Assessment Activities
Art majors will successfully demonstrate competencies required by the department. Competencies will be evaluated through a portfolio review.
Each art major is required to produce and maintain a portfolio of work done at CSU-Pueblo as a record of achievement. The contents and objectives of the portfolio will be described, discussed and planned in the career orientation class (ART 110). ART 310 is the mid degree portfolio review taken after completing the art core. Final evaluation of the progressive portfolio will take place during the student's last semester as part of the senior orientation class (ART 410).
The format of the portfolio may vary according to subject matter and content but in general the presentation materials will consist of 35mm color slides, prints, graphic design samples, electronic files, and/or videotapes, as appropriate.
As a competency indicator of achievements in the area of art history, part of the portfolio should contain samples of a student's written material as related to art history, analysis and criticism.
The intent of the portfolio is to faithfully reflect the ability and competency level of the art student as he or she progresses in the program. The makeup of the portfolio will reflect the personal accomplishments of each individual.
A complete set of course outlines and examination examples for each course will be maintained and updated by faculty members and made available to the student upon request. Class objectives and skills attained during the class will be denoted clearly in these materials.
Student Learning Outcomes
Department of Art Student Learning Outcomes and Assessment Activities 
1. Students will apply discipline-specific competencies for success in their emphasis area.
Outcome Assessment Activity: ART 410 with exit survey
2. Students will distinguish the role of art in a global society.
Outcome Assessment Activity: Senior portfolio with exit survey and art history rubric to measure quality of written expression
3. Students will employ creative skills associated with interdisciplinary learning.
Outcome Assessment Activity: ART 410 with exit survey
4. Students will make use of intellectual and practical skills for lifelong learning.
Outcome Assessment Activity: Internships with employee surveys
5. Students will create original work suitable for entry into a juried exhibition.
Outcome Assessment Activity: Annual juried art show and any non-juried student on-campus shows
6. Art education students will be able to apply the knowledge and skills needed to help children learn to create and appreciate art.
Outcome Assessment Activity: PLACE test in addition to other BA measurements